More about Metallizing
In many areas of application, vacuum coating technologies continue to replace traditional methods such as chrome electroplating. The flexibility of this technique enables all types of materials, without distinction of shape, structure and size to be coated. This process gives technical as well as ornamental objects a very shiny, reflective, metallic look which can be in various colours. In addition to obtaining high surface resistance, products gain a decorative look lasting over time.
The main existing applications for metallization are as follows:
Reflectors and bezels, interior-lights, solar-concentrators
Cosmetic packaging
EMI/RFI masks
Design and lifestyle products
Ornamental and decorative articles
Car interiors and exteriors
Toy parts
Fashion and costume jewellery accessories
Christmas tree decorations, buttons, frames, push buttons, handles, plates
Various accessories such as knobs, moulding, dashboards, doorhandles (only to mention a few…)
Metallization - The Concept
KOLZER metallizing machines are available in both horizontal and vertical versions: manufactured using the best materials and components available on the world market, both have robust steel process chambers which come in different sizes.
Characteristics and advantages:
Low temperature ecological process
Vacuum pump system efficiency and high productivity
Simple visual interface for the operator
Automated work cycle
Process software with more than 70 years of know-how in the database to pilot the completion of the operation according to the application in use.

The loading system:
The materials to be coated are fixed onto piece holders also called "jigs", these are fixed onto the loading/unloading system, also called "planetary system".
During the coating process, the satellites rotate around the source of evaporation and on their own axis, to "metallize" even complex surfaces
uniformly; the vacuum ensures the ideal conditions needed for a perfectly uniform and compact coating.

The operative phase:
The pieces are fixed onto the satellites, which in turn are fixed onto the loading system.
After closure of the coating chamber the automatic cycle starts.
The metallization process starts when the vacuum reaches the optimal value.
At the end of the process the system brings back atmospheric pressure to the chamber.
The plant is ready to metallize the next load, already set up on the second loading system.
Metallization - The Process
The term metallization generically means sublimation and condensation (deposition) onto a substrate of a thin metal film at a low pressure of about 10-4 mbar. Low pressure (vacuum) enables the metal molecules to move from the source of evaporation to the surface to be coated avoiding contact with air and other gas particles. Sublimation and deposition of aluminium onto a product is the most frequently used method of industrial metallization.
After the pre plasma treatment in the process chamber, deposition onto moulded shiny "mirror-like" plastic materials requires a coat of preparation that levels and isolates, increasing adhesion of the subsequent metal layers and trasparent finishing. The base coat has three different functions which are fundamental in order to obtain the best process results:
aesthetics
isolation
interface for adhesion of the subsequent layers.
The deposition of aluminium and other metals has an aesthetic and functional role. An estimated 60% of metallization applications are fundamentally for aesthetic purposes, but with the progressive change of chrome electroplating coating processes, both expensive and highly dangerous for the environment, functional type applications are increasing.
This process is used with multistage processes which have been set up for the cycles which metallize vehicle headlights and parabolas for all types of reflectors:
Plasma
Metallization using aluminium
Plasma polymerization PECVD (in a single process)
This process is used in electronics and for electromagnetic insulation:
Deposition of multiple layers of various metals
This process is used in cycles which metallize for aesthetic purposes. Today, transparent finishing is carried out mainly with varnishing products since their shiny and glass-like look enhances the bright effect and image definition reflected by the deposited metal coating giving extraordinary, both aesthetic and functional, results. The function of the finishing coat, also coloured, is very important as it protects the deposited metal against wear and from chemical corrosion (perfume, essence, sweat etc) and completes a coating cycle made up of multi layers that cohere.
A complete installation for metallization in the decorative/functional field consisting of a metallizer, a cabin for varnishing parts, an oven to dry the varnish, compressed air and water cooling systems. In addition to all the machines KOLZER supplies the materials and accessories needed for production, as well as providing skilled and technical post-sales assistance that is world renowned.
KOLZER is your partner for demanding surface finishing.
Metallization - The Control
A PC is used to automatize all the process phases (emptying, plasma cleaning, metallization and final protective coating).
A PC display supervises all the operative phases giving instant reports, data on the system and on the cycle condition, informing and guiding the operator through the process. Printer, keyboard, mouse, LCD video, lan card and modem for on-line assistance are provided.
Today the experience matured by Kolzer enables production of machines which have minimum process times, are easy to use and have totally automatic process control systems that eliminate operator error.
Regardless of the technologies of the different fields, with KOLZER the client receives everything from a sole supplier to optimal individual solutions, advice, planning, training and a made to measure plant for client specific production. Profitability and quality for the client are of prime importance.
Know-how in the Metallization : KOLZER is a premier manufacturer of customer specific Metallizing coating systems, all built with the finest components available on the world market. For over 70 years, Kolzer has built Metallizers that redefine vacuum coating standards and capabilities from the iconic Metallizer DGK36" to the supreme Metallizer MK63". Over 70 years of know-how is found in our technology competence: the Vacuum Metallizing coating.
Why a KOLZER Metallizing System?
Over 1200 plants installed worldwide
Quick cycle times
High production capability with low energy consumption
More up time due to ease of loading/unloading and low maintenance
High productivity with only a single operator
Windows operating system with 24/7 internet connection
Steel process chambers, built to last
Eco friendly
Space saving design
Plasma option available on all plants
1 year component warranty and 12 years minimum guaranteed working life
Complete global network of consulting, engineering and renowned after sales service
No other vacuum coating company offers innovation such as multiple hybrid Metallization technology, production flexibility and reduction of consumables. The consumer offerings are an infinite array of indestructible bonds using nanotechnology. Over 70 years of expertise, lowest cost of ownership and the quickest cycle times available, assure you of the highest industrial standards while keeping a focused eye on the balance sheet.
The KOLZER Horizontal range DGK plants offer space saving production for small and large items. The innovative Vertical range MK delivers high speed, large production runs with ease of loading on the two system doors. KOLZER plants can be designed with customer specific sizes and loading variables to simplify operation and maximize output.
THE MACHINES
KOLZER'S machine engineering technology stands out as it adapts to individual client requirements, offering sector specific processes. KOLZER offers qualified engineering for complex production systems.
The range of supplies includes plant families, from the" Mini compact plant" for research companies and laboratories, to more elaborate coating systems and special plants for in-line processes, larger sized articles and hybrid systems.
---
Horizontal range DGK®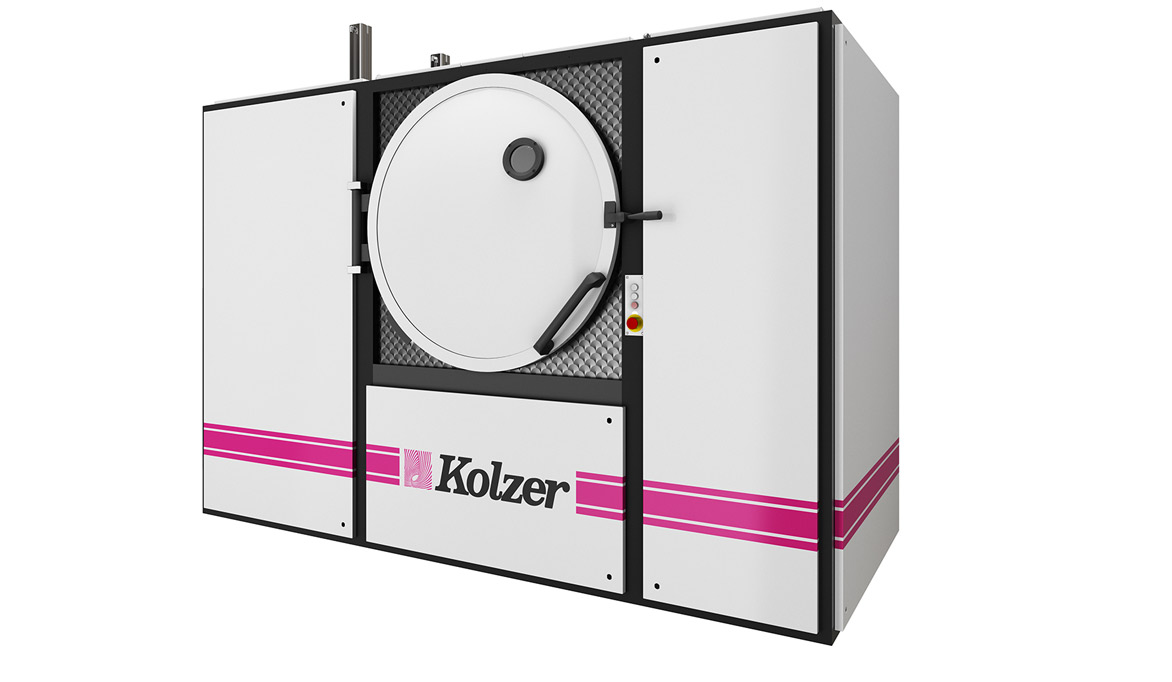 Space saving, practical and easy to use. Dual loading systems supplied with every machine, that offer a single operator speed, accuracy and high productivity at the touch of a button.
The classical work system combines single and multiple target technology offering superior results and versatility. The complete range of plants in standard sizes:
DGK36" diameter 1000 mm
DGK48" diameter 1200 mm
DGK63" diameter 1600 mm
(*Custom sizes available)
---
Vertical range MK®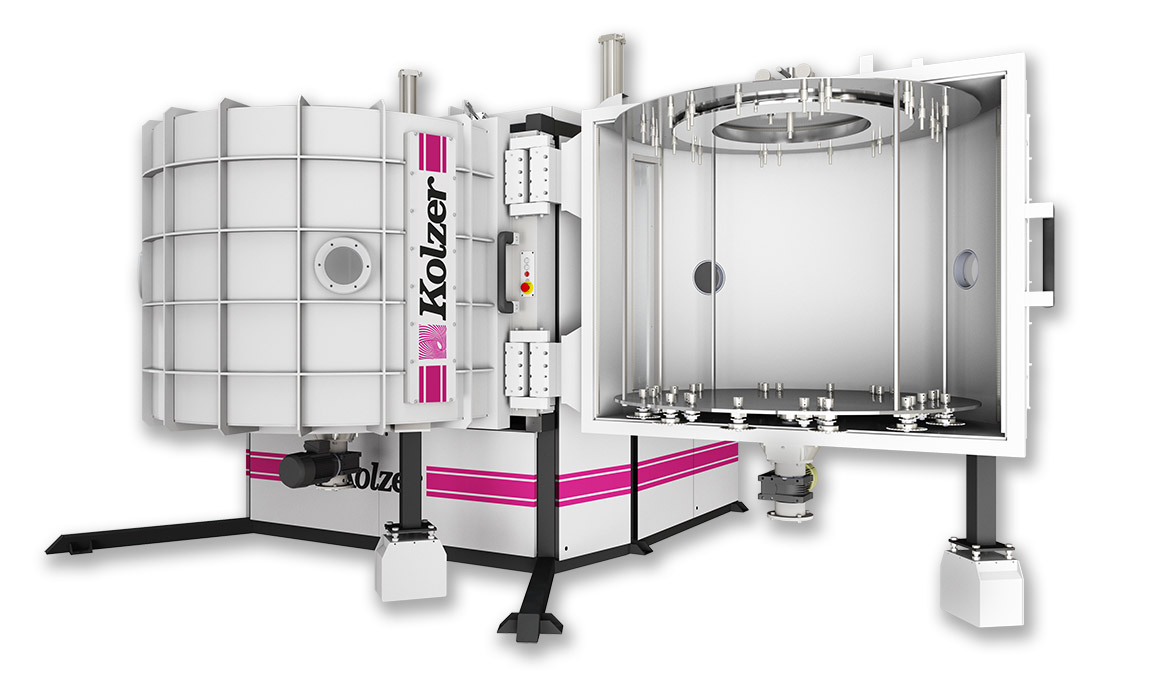 The KOLZER vertical MK range is a marvel of design innovation. From the dual direct loading and unloading doors to the easy to use Windows software, the entire production cycle is fast and carefree. These vertical systems offer hybrid technology PVD and PECVD for flexibility and creativity all in one machine.
The standard family plant range:
MK34" diameter 1000 mm
MK63" diameter 1600 mm
(* Custom sizes available)
Contact our headquarters, our technicians will be at your disposal for any information you may require.