Kolzer offers machines for the deposition of silver and copper nanoparticles on masks and other medical devices
To face the health emergency of Coronavirus, Kolzer has made available expertise and machines for silver and copper nanoparticles application on any substrate, including masks and other medical devices. Silver or copper nanoparticles are in fact able to inhibit virus infection and prevent viral migration.
Kolzer, a company from Cologno Monzese (MI) specialized in the production of PVD machines, offers its machinery for the deposition of silver nanoparticles on various materials, including textiles.
"In our headquarters in Cologno Monzese we have about 6 industrial reactors available and ready to use for the production and deposition of silver or copper particles," says Antonio D'Esposito, owner of Kolzer. "We are able to deposit silver or copper nanoparticles on any substrate even with various sizes, including flexible materials such as masks and textiles."
The deposition of silver or copper thin layer on materials dedicated for medical use is not new to Kolzer. In 2008, the company collaborated with the Niguarda hospital in Milan, carrying out several tests on gauze and textile that have returned excellent results.
"We have already started coating the first fabric / non-woven masks currently in circulation, obtaining a mask with an antibacterial, water-repellent, waterproof, ionizing and thermoregulating device characteristics", says D'Esposito. "We therefore want to spread the message as much as possible: we are available to the community, the competent authorities and the companies interested in this type of treatments".
The antibacterial and antiviral properties of silver and copper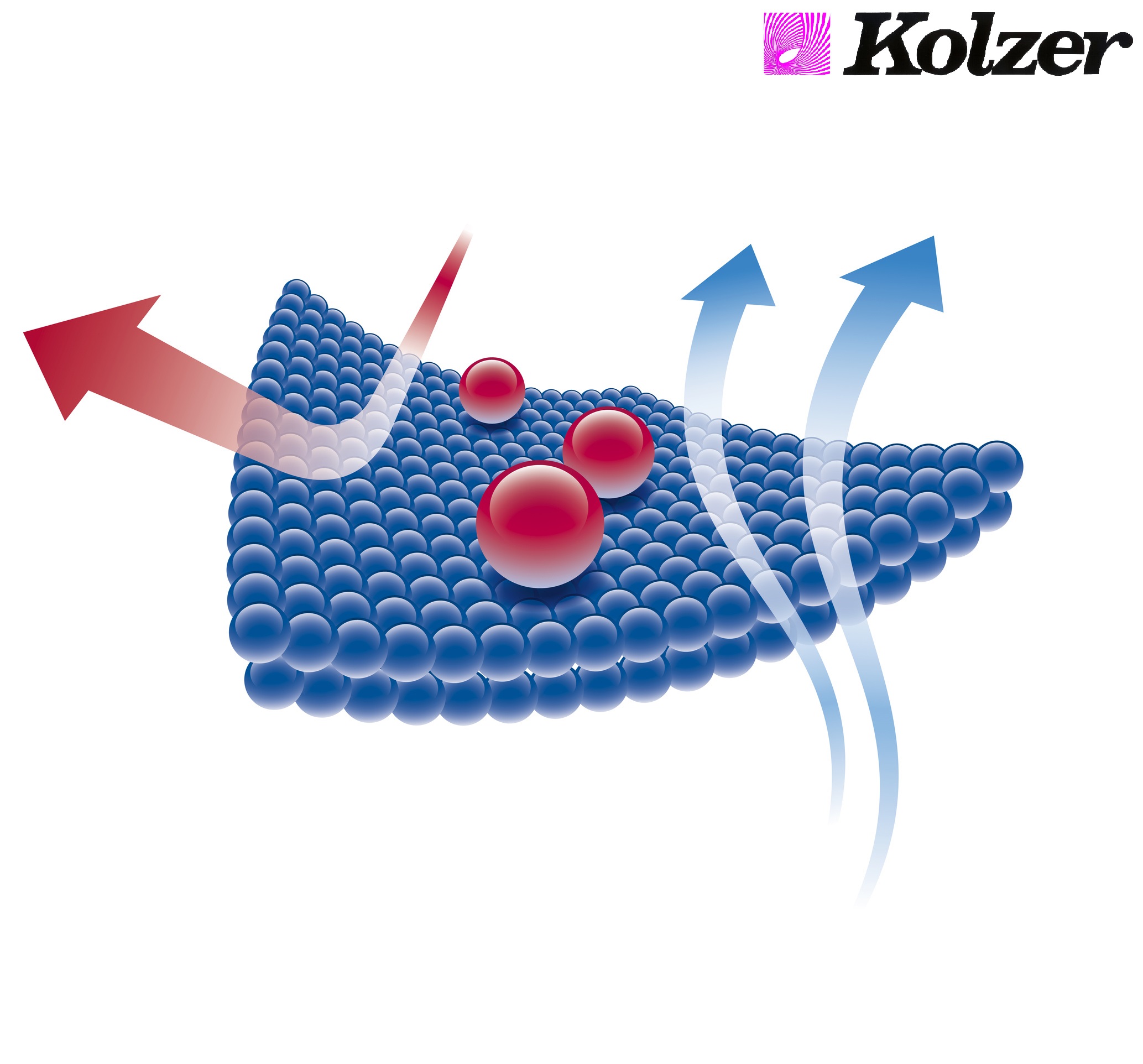 Silver and copper are notoriously used in medicine for their antibacterial and biocidal effect and for their non-toxicity for humans being. they are often incorporated into gauze, creams and as a germicidal coating in various medical devices.
The antibacterial properties of silver anc copper depends ions (Ag + or Cu+) which are biologically active and are able to irreversibly damage the key system of enzymes in the membrane of pathogens.
A study of the Vaccinia virus showed that the 25 nm silver or copper thin layer inhibited its replication, preventing viral entrance. The silver or copper nanoparticles have in fact caused a reduction from 4 to 5 log of the viral titre to non-toxic concentrations for the cells. The virus was therefore able to absorb cells but could not enter into the cells with silver or copper nanoparticles. Virus particles that had adsorbed into cells in the silver nanoparticles were infectious at the time of removal from the cells, indicating the lack of direct virucidal effect.
How to contact Kolzer
KOLZER SRL
via Francia, 4
20093 Cologno Monzese (Milano) Italy
+39 02 25 43 193
This email address is being protected from spambots. You need JavaScript enabled to view it.
www.kolzer.com